LETHERINGSETT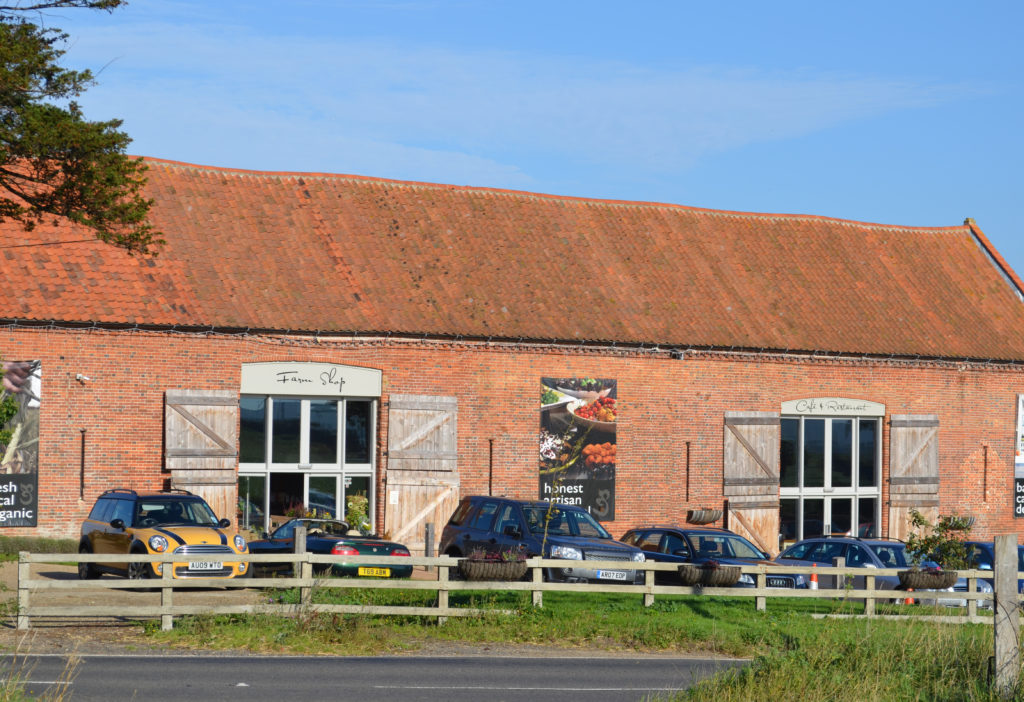 Back to the Garden Restaurant and Farm shop is situated in a beautiful 18th century threshing barn. Produce and ingredients are sourced from as close as they can find, using their own organic chicken and lamb from the farm, beef from Letheringsett and using the best local or organic vegetables, they favour the freshest and closest produce that they can obtain.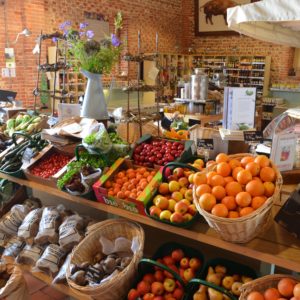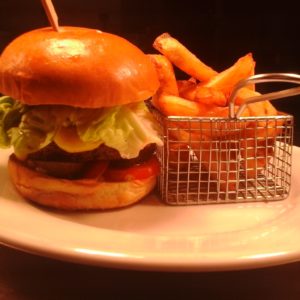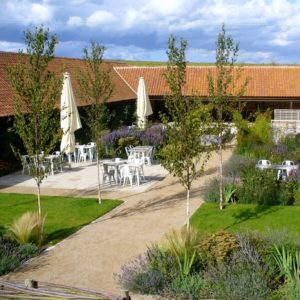 Daily Soup (please inquire regarding allergens on the day)
Choice of Bread
Sticky Sambuca Chicken Wings
Chili and Pineapple Carpaccio. (So, Se, Gf)
Treacle and Soya Cured Salmon
Asian Slaw, (So, Se, F, Gf)
Tempura Market Vegetables
Soya, Maple and Sesame Vinaigrette. (So, G, Vg)
*****
BTTG Daily Pie
Buttered Mash Potato, Roasted Carrot and Sprouts, Red Wine Gravy. (G, C, E, M, Mu, Su)
Astley Estate Chicken (Org), Chestnut Mushroom and Tarragon Sausage
Buttered Mash Potato, Kale, Light Chicken Jus. (Su, M, c, Mu, Gf)
Norfolk Beer Battered Fish Medley
Haddock, Salmon, King Prawn, Peas Pudding, Hand Cut Chips, Caper Aioli. (G, F, So, E, Cr)
BTTG Moules and Frites
Wells Sweet Cider, Treacle Bacon, Parsley Cream Sauce, Crusty Bread. (G, Mo, M, Mu, So)
Vegan Black Bean Burger
Toasted Ciabatta, Tomato, Baby Gem, Harissa Hummus, Hand Cut Chips. (Se, G, So, C, Vg)
Honey Roasted Butternut Squash Linguine
Semi Dried Ginger Plum Tomatoes, Goats Cheese Pesto. (C, M, E)
*****
Norfolk Plum Bakewell Tart
Vanilla Bean Crème Fraiche, Plum Syrup. (M, E, G, Tn)
Potted Chocolate and Orange Cheesecake
(M, E, G)
Sticky Ginger Sponge Pudding
Ginger syrup, Clotted Cream. (M, G, Tn)
BTTG Deli Cheese of the day
Candied Walnut, Fig, Charcoal Biscuit. (M, G, Tn)
*****
(c) celery (g) cereals that contain gluten – including wheat (such as spelt and Khorasan), rye, barley and oats (cr) crustaceans – such as prawns, crabs and lobsters (e) eggs (f) fish (l) lupin (m) milk (mo) molluscs – such as mussels and oysters (mu) mustard (tn) tree nuts – including almonds, hazelnuts, walnuts, brazil nuts, cashews, pecans, pistachios and macadamia nuts (p) peanuts (se) sesame seeds (so) soybeans (su) sulphur dioxide and sulphites (if they are at a concentration of more than ten parts per million) (gf) Gluten Free (df) Dairy Free (vg) Vegan
*****
*Please note, because of the seasonal nature of some dishes, menus may change without notice.
Restaurant Week menu will be available at BACK TO THE GARDEN on the following days and times.
| | |
| --- | --- |
| | Service |
| Monday 28th October | Lunch 11am – 3.30pm |
| | Dinner Not Available |
| Tuesday 29th October | Lunch 11am – 3.30pm |
| | Dinner Not Available |
| Wednesday 30th October | Lunch 11am – 3.30pm |
| | Dinner Not Available |
| Thursday 31st October | Lunch 11am – 3.30pm |
| | Dinner Not Available |
| Friday 1st November | Lunch 11am – 3.30pm |
| | Dinner Not Available |
| Saturday 2nd November | Lunch Not Available |
| | Dinner Not Available |
| Sunday 3rd November | Lunch Not Available |
| | Dinner Not Available |
| Monday 4th November | Lunch 11am – 3.30pm |
| | Dinner Not Available |
| Tuesday 5th November | Lunch 11am – 3.30pm |
| | Dinner Not Available |
| Wednesday 6th November | Lunch 11am – 3.30pm |
| | Dinner Not Available |
| Thursday 7th November | Lunch 11am – 3.30pm |
| | Dinner Not Available |
| Friday 8th November | Lunch 11am – 3.30pm |
| | Dinner Not Available |
---
BOOK NOW
01263 715996/715540
(Please Quote Norfolk Restaurant Week)
Find us
---
Fakenham Road
Letheringsett
Holt
NR25 7JJ
Good to know
---
Accessible dining