HOLT
Byfords is one of the oldest buildings in Holt, described as a higgledy piggledy world of pleasure. The beautifully restored Grade II listed building is the perfect place for a relaxed candlelit dinner with a local and deli inspired menu.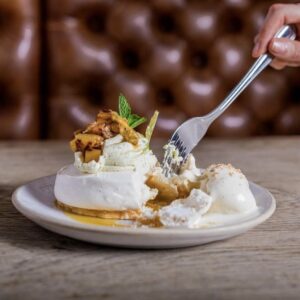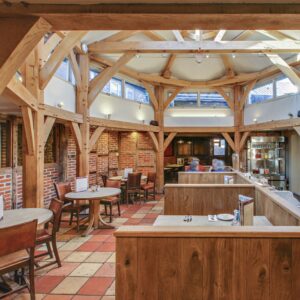 Grazings:
Hot & crispy Calamari, harissa and lime mayo (f) (g) (e)
Whipped goat cheese, sun-blushed tomato, olive, rosemary, toasted sourdough (m) (g)
Smoked mackerel pâté , toasted focaccia, caperberry & cucumber (f) (m) (g)
Crispy chili beef, sticky chili relish, spring onion, sesame (se)
Main Courses
Byfords Kedgeree, smoked haddock, spiced cream, spinach, prawns, topped with a poached egg (e) (m) (f) (cr)
Pan-fried halloumi, linguini, slow-roasted tomato ragu, parmesan, pesto croute (g) (m) (tn – pinenuts)
Our classic steak & chip salad, seared rump steak, and fried new potatoes, on top of a dressed house salad, finished with onion marmalade (mu)
Chicken & bacon pie, herb mashed potatoes, roasted roots, proper gravy (e) (m)
Desserts
Sticky toffee pudding, butterscotch, vanilla gelato (m) (e)
Byfords brownie sundae, brownie pieces, vanilla & chocolate gelato, chocolate sauce and lashings of whipped cream (m) (e)
Roasted pineapple pavlova, passionfruit, lime cream, coconut gelato (m) (e)
The Cheeseboard – Binham blue, Norfolk dapple, brie, homemade apple chutney, celery, crackers (m) (g) (e) (c)
*****
(c) celery (g) cereals that contain gluten – including wheat (such as spelt and Khorasan), rye, barley and oats (cr) crustaceans – such as prawns, crabs and lobsters (e) eggs (f) fish (l) lupin (m) milk (mo) molluscs – such as mussels and oysters (mu) mustard (tn) tree nuts – including almonds, hazelnuts, walnuts, brazil nuts, cashews, pecans, pistachios and macadamia nuts (p) peanuts (se) sesame seeds (so) soybeans (su) sulphur dioxide and sulphites (if they are at a concentration of more than ten parts per million) (gf) Gluten Free (df) Dairy Free (vg) Vegan
*****
*Please note, because of the seasonal nature of some dishes, menus may change without notice.
Restaurant Week menu will be available at BYFORDS on the following days and times.
Monday 30th Lunch Not Available
Monday 30th Dinner 5pm – 9pm
Tuesday 31st Lunch Not Available
Tuesday 31st Dinner 5pm – 9pm
Wednesday 1st Lunch Not Available
Wednesday 1st Dinner 5pm – 9pm
Thursday 2nd Lunch Not Available
Thursday 2nd Dinner 5pm – 9pm
Friday 3rd Lunch Not Available
Friday 3rd Dinner 5pm – 9pm
Saturday 4th Lunch Not Available
Saturday 4th Dinner Not Available
Sunday 5th Lunch Not Available
Sunday 5th Dinner Not Available
Monday 6th Lunch Not Available
Monday 6th Dinner 5pm – 9pm
Tuesday 7th Lunch Not Available
Tuesday 7th Dinner 5pm – 9pm
Wednesday 8th Lunch Not Available
Wednesday 8th Dinner 5pm – 9pm
Thursday 9th Lunch Not Available
Thursday 9th Dinner 5pm – 9pm
Friday 10th Lunch Not Available
Friday 10th Dinner 5pm – 9pm
---
BOOK NOW
01263 711400
(Please Quote Norfolk Restaurant Week)
Find us
---
1 – 3 Shirehall Plain
Holt
NR25 6BG
Good to know
---
Accessible dining