HEACHAM
Situated within Heacham Manor the award winning Mulberry Restaurant, with its glorious panoramic views, offers a varied and interesting menu. The talented team of chefs are overseen by Neil Rutland the gifted chef that started the kitchen in 2009. They use beautiful locally sourced ingredients and deliver simple, unpretentious food with an abundance of delicate flavours. The carefully selected Wine List ensures that a great meal can be complemented with a great wine.
The Mulberry Restaurant serves a cook-to-order Norfolk Breakfast, relaxed Lunches including a Roast Sunday Lunch, Casual Evening Dining and Traditional Afternoon Tea. With a seasonal A La Carte Menu, there is something for everyone, including a generous selection of gluten-Free and Vegetarian dishes.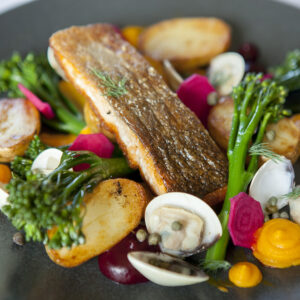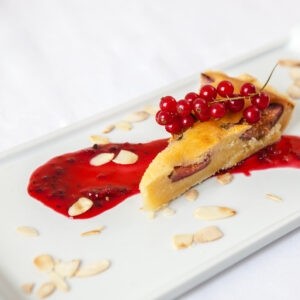 Homemade soup of the day. (V)
Prawn and crayfish cocktail with Marie rose and baby gem lettuce.
Roast pork belly with apple purée crackling and pea shoots.
Plum tomato and feta salad with balsamic reduction. (V)
*****
Confit of Gressingham duck leg, braised red cabbage, grated pear, wilted greens and red wine jus.
Mixed seafood fricassee with spaghetti vegetables and a horseradish broth.
Traditional battered Cod & Chips minted crushed peas & homemade tartare sauce.
Roast pepper and goats cheese risotto with basil pesto. (V)
*****
Double chocolate brownie with chocolate sauce and pistachio ice cream.
Apple and cinnamon crumble with vanilla ice cream.
Vanilla panna cotta with Whin hill cider syrup and dried apple wafer.
Ice Cream & Sorbet Selection
Choose two scoops from French Vanilla, Belgian Chocolate, Butterscotch, Jamaican Rum & Raisin, Double Strawberry or Pistachio
Sorbets – Lemon, Raspberry or Mango
*****
*Please note, because of the seasonal nature of some dishes, menus may change without notice.
Roast tomato and basil pesto soup. (V)
Home cured salmon & dill gravadlax with a lemon and Dijon mustard mayonnaise, bitter rocket leaves, compressed cucumber.
Chicken and black pudding terrine with homemade piccalilli and chargrilled ciabatta.
Sauté mushrooms with Binham blue cheese on toasted rosemary brioche. (V)
*****
Confit of pork belly rolled with shallot and thyme relish, fondant potato, tender stem broccoli and a grain mustard jus.
Roast chicken Kiev filled with curried butter served with a puy lentil dahl, onion bhaji & raita.
Baked fillet of black bream with spring onion and bacon mashed potato, wilted greens and cockle butter sauce.
Brie and leek risotto with pecorino crisps, micro herb salad and tarragon oil. (V)
*****
Chocolate and maple syrup torte with ginger biscuit crumb raspberry grits and rum syrup.
Apricot and frangipane slice with apricot purée and Chantilly cream.
Vanilla bean panna cotta with apple and cinnamon compote, apple wafer and apple sorbet.
Hazelnut praline semifreddo with lemon & lime syrup and a tuile biscuit.
*****
*Please note, because of the seasonal nature of some dishes, menus may change without notice.
Restaurant Week menu will be available at THE MULBERRY RESTAURANT on the following days and times.
| | |
| --- | --- |
| | Service |
| Monday 28th October | Lunch 12pm – 2pm |
| | Dinner 6.30pm – 9pm |
| Tuesday 29th October | Lunch 12pm – 2pm |
| | Dinner 6.30pm – 9pm |
| Wednesday 30th October | Lunch 12pm – 2pm |
| | Dinner 6.30pm – 9pm |
| Thursday 31st October  | Lunch 12pm – 2pm |
| | Dinner 6.30pm – 9pm |
| Friday 1st November | Lunch 12pm – 2pm |
| | Dinner 6.30pm – 9pm |
| Saturday 2nd November | Lunch Not Available |
| | Dinner Not Available |
| Sunday 3rd November | Lunch Not Available |
| | Dinner Not Available |
| Monday 4th November | Lunch 12pm – 2pm |
| | Dinner 6.30pm – 9pm |
| Tuesday 5th November | Lunch 12pm – 2pm |
| | Dinner 6.30pm – 9pm |
| Wednesday 6th November | Lunch 12pm – 2pm |
| | Dinner 6.30pm – 9pm |
| Thursday 7th November | Lunch 12pm – 2pm |
| | Dinner 6.30pm – 9pm |
| Friday 8th November | Lunch 12pm – 2pm |
| | Dinner 6.30pm – 9pm |
---
BOOK NOW
01485 536030
(Please Quote Norfolk Restaurant Week)
Find us
---
Heacham Manor Hotel
Hunstanton Road
Heacham
PE31 7JX
Good to know
---
Accessible dining