SWAFFHAM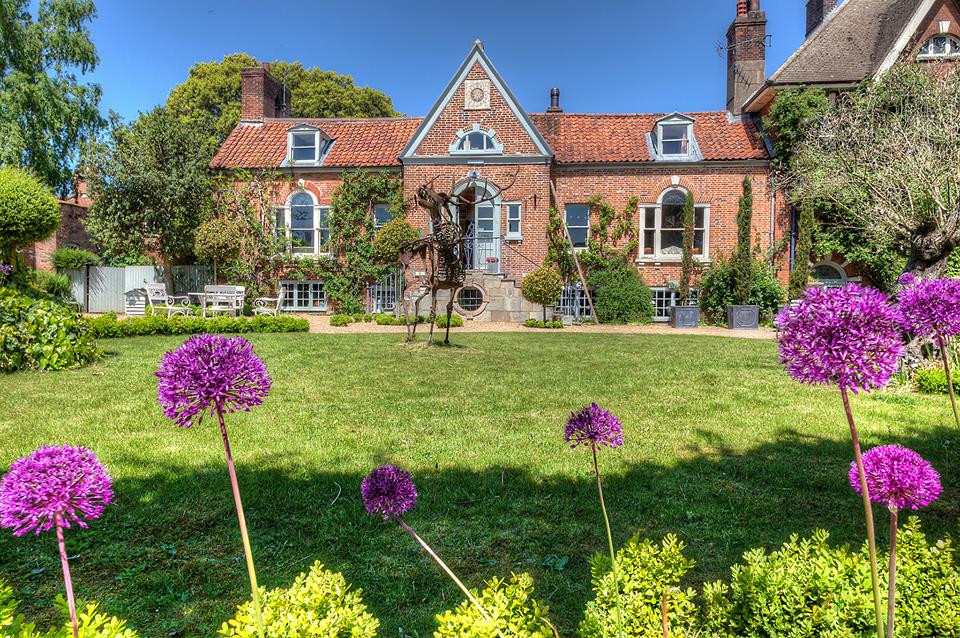 Good food has always been a vital ingredient of Stratton's delivery and an important connection with its rural location. The restaurant has won many awards and accolades for it delicious food and the pursuit of only the best ethical and purest local ingredients served in a contemporary English style.
The restaurant at Strattons is situated in the semi-basement, an area referred to as 'The Rustic' from the Palladian fashion for decorating the lower ground floor facade with rusticated stone.
Food style: Modern British using the best local, fresh ingredients – organic where ever possible. Includes vegetables, salad leaves, and herbs from our own gardens.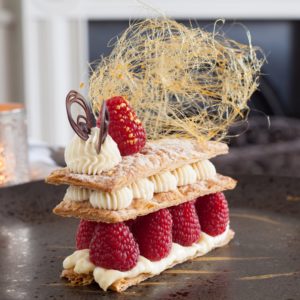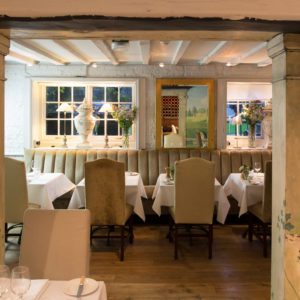 Soup, seasonal from the veggie basket brought to us by local producers & gardeners (c)
Pressed ham hock, sweetcorn salsa, pickled shallot (su) (mu)
Smoked mackerel & herb pate, picked cucumber, toasted sourdough (f) (m) (su) (g)
Roasted beetroot, beetroot & apple relish, Strattons ricotta, horseradish, dill salad (su) (m)
*****
24hr slow roasted Scotts Field belly pork, roasted new potatoes, braised turnips, apple & shallot vinaigrette (su) (c)
Grilled fish of the day, gremolata, new potatoes, broccoli, walnut dressing & crispy cockles (f) (mo) (tn) (su)
Lamb, tomato & harissa stew, chickpea batter, roasted carrots & sesame yoghurt (se) (m) (c)
Cauliflower cheese risotto, sourdough crumb (m) (g) (c)
*****
Bailey's bread & butter pudding, vanilla ice cream (m) (e) (g) (su)
Baked fig frangipan tart, honey ice cream (g) (e) (m) (tn)
Halva & sea salt brownie, vanilla ice cream, caramel (se) (m) (e) (so)
Blackberry sorbet, gin steeped blackberries, cinnamon meringue  (su) (e)
*****
(c) celery (g) cereals that contain gluten – including wheat (such as spelt and Khorasan), rye, barley and oats (cr) crustaceans – such as prawns, crabs and lobsters (e) eggs (f) fish (l) lupin (m) milk (mo) molluscs – such as mussels and oysters (mu) mustard (tn) tree nuts – including almonds, hazelnuts, walnuts, brazil nuts, cashews, pecans, pistachios and macadamia nuts (p) peanuts (se) sesame seeds (so) soybeans (su) sulphur dioxide and sulphites (if they are at a concentration of more than ten parts per million) (gf) Gluten Free (df) Dairy Free (vg) Vegan
*****
*Please note, because of the seasonal nature of some dishes, menus may change without notice.
Restaurant Week menu will be available at STRATTONS HOTEL on the following days and times.
| | |
| --- | --- |
| | Service |
| Monday 28th October | Lunch Not Available |
| | Dinner 6pm – 9pm |
| Tuesday 29th October | Lunch Not Available |
| | Dinner 6pm – 9pm |
| Wednesday 30th October | Lunch Not Available |
| | Dinner 6pm – 9pm |
| Thursday 31st October | Lunch Not Available |
| | Dinner 6pm – 9pm |
| Friday 1st November | Lunch Not Available |
| | Dinner Fully Booked |
| Saturday 2nd November | Lunch Not Available |
| | Dinner Not Available |
| Sunday 3rd November | Lunch Not Available |
| | Dinner 6pm – 9pm |
| Monday 4th November | Lunch Not Available |
| | Dinner 6pm – 9pm |
| Tuesday 5th November | Lunch Not Available |
| | Dinner 6pm – 9pm |
| Wednesday 6th November | Lunch Not Available |
| | Dinner 6pm – 9pm |
| Thursday 7th November | Lunch Not Available |
| | Dinner 6pm – 9pm |
| Friday 8th November | Lunch Not Available |
| | Dinner 6pm – 9pm |
| Saturday  9th November | Lunch Not Available |
| | Dinner Not Available |
| Sunday 10th November | Lunch Not Available |
| | Dinner 6pm – 9pm |
---
BOOK NOW
01760 723845
(Please Quote Norfolk Restaurant Week)
Find us
---
4 Ash Close
Swaffham
PE37 7NH
---