TERRINGTON St JOHN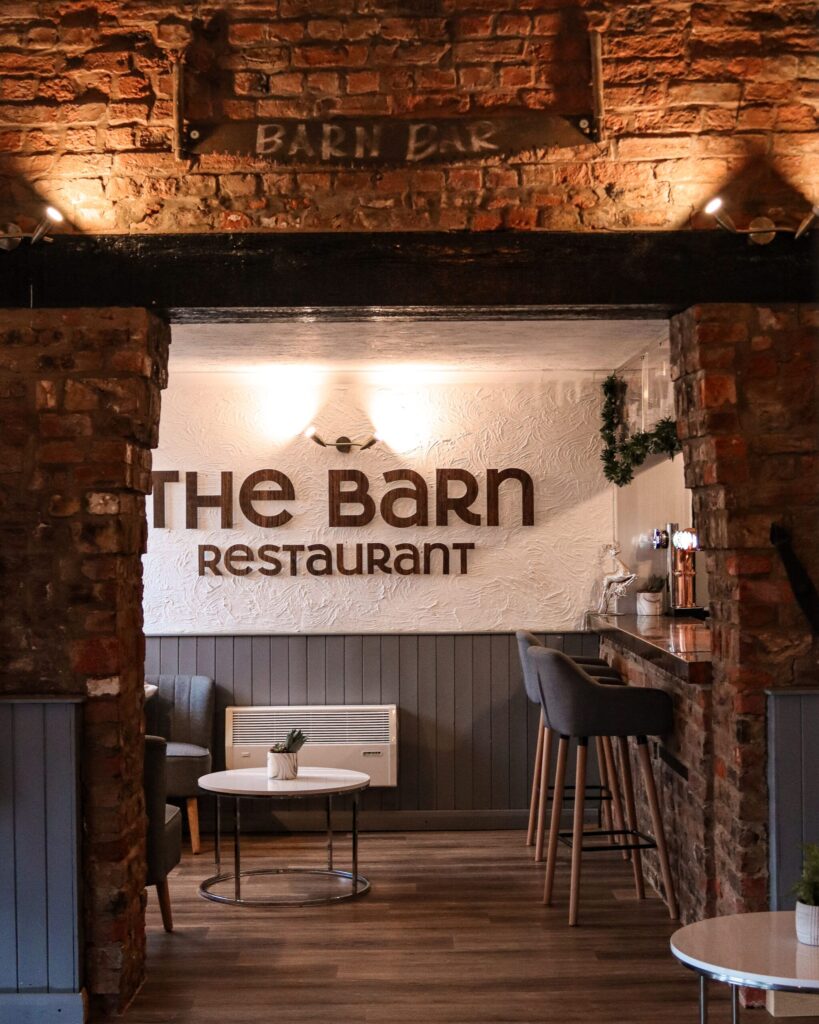 The Barn is an established and popular restaurant focusing on a varied and traditional menu. All ingredients come from local suppliers and their own herd of cattle farmed within 5 miles of the restaurant. The Barn restaurant's team has vast experience with chefs working within the UK, France and Spain. Bringing familiar, simple, home cooked food to your plate. Eating at The Barn is a special occasion where the main focus is good food and a relaxing atmosphere.
Starters
Chicken Strips
Chicken strips coated in our Barn seasoning, served with mixed leaf salad and our homemade barbeque sauce (GFA) (g, m)
Halloumi
Fried halloumi in our Barn seasoning, served with mixed leaf salad and our homemade chilli jam (V) (m) (DFA)
Whitebait
Deep fried whitebait, mixed leaves served with tartar sauce and a lemon wedge (g, e, f, m)
Smoked Mackerel Pate
Smoked peppered mackerel bound in a horseradish cream, served with toasted sourdough bread and a lemon garnish (e, f, g, m) (GFA)
Main Course
Leek and Mango Tart
Homemade short crust pastry tart filled with mango chutney and sautéed leeks and cheddar cheese. Served with a mixed salad (V) (e, g, m)
Chicken in Garlic and Mushroom Sauce
Chargrilled chicken breast finished in the oven coated in our garlic and mushroom sauce, served with new potatoes and vegetables (GF) (c, m)
Beer and Mustard Pork Rump
Pan seared beer and mustard marinated 10oz pork rump, served with chunky chips and coleslaw (GF) (c, e, m, mu)
Flat iron steak
Flat iron steak cooked medium rare. Served with green peppercorn sauce and skinny fries (GF) (DFA) (c, m)
Desserts
Sticky Toffee Pudding
Homemade sticky toffee pudding with toffee sauce and your choice of vanilla ice cream, custard, or cream (e, g, m)
Brownie
The Barn's homemade chocolate brownie, topped with vanilla ice cream and strawberries and finished with chocolate sauce and mini marshmallows (GFA) (e, g, m)
Cheesecake of the Day
Ask your server for our cheesecake of the day, served with whipped cream (g, m) (check allergens with your server as our cheesecake changes weekly)
Lemon Posset
Smooth lemon posset topped with a blueberry compote and served with homemade shortbread biscuits (GFA) (g, m)
Cookie Pie
Homemade cookie dough filled with a different filling weekly. Served with vanilla ice cream (e, g, m) (check allergens with your server as our cookie pie changes weekly)
Peanut Butter Stack
Layers of peanut butter, caramel and chocolate cake served with whipped cream and toffee sauce (e, g, m, p)
Sponge of the Week and Custard
Traditional, sponge pudding served smothered in custard (e, m, g)
Pavlova
Homemade meringue topped with whipped cream and fresh strawberries (GF) (e, m)
Chocolate Overload Sundae
A scoop of vanilla, chocolate and toffee ice cream, served topped with whipped cream, chocolate pieces, mini marshmallows, strawberries and finished with chocolate and toffee sauce and a wafer (e, g, m)
Fruit Overload Sundae
A scoop of vanilla, strawberry and lemon ice cream, topped with whipped cream, homemade shortbread and finished with raspberry and mango coulis and a wafer (e, g, m)
Ice Cream Flavours
3 Scoops Choose from: vanilla pod, double chocolate, honeycomb, toffee, mint chocolate chip, strawberry, lemon sorbet, blood orange sorbet (GFA) (e, m, g)
*****
(c) celery (g) cereals that contain gluten – including wheat (such as spelt and Khorasan), rye, barley and oats (cr) crustaceans – such as prawns, crabs and lobsters (e) eggs (f) fish (l) lupin (m) milk (mo) molluscs – such as mussels and oysters (mu) mustard (tn) tree nuts – including almonds, hazelnuts, walnuts, brazil nuts, cashews, pecans, pistachios and macadamia nuts (p) peanuts (se) sesame seeds (so) soybeans (su) sulphur dioxide and sulphites (if they are at a concentration of more than ten parts per million) (gf) Gluten Free (df) Dairy Free (vg) Vegan
*****
*Please note, because of the seasonal nature of some dishes, menus may change without notice.
Restaurant Week menu will be available at THE BARN RESTAURANT on the following days and times.
Monday 30th Lunch Not Available
Monday 30th Dinner 5.30pm – 8.30pm
Tuesday 31st Lunch Not Available
Tuesday 31st Dinner 5.30pm – 8.30pm
Wednesday 1st Lunch Not Available
Wednesday 1st Dinner 5.30pm – 8.30pm
Thursday 2nd Lunch Not Available
Thursday 2nd Dinner 5.30pm – 8.30pm
Friday 3rd Lunch Not Available
Friday 3rd Dinner 5.30pm – 8.30pm
Saturday 4th Lunch Not Available
Saturday 4th Dinner Not Available
Sunday 5th Lunch Not Available
Sunday 5th Dinner Not Available
Monday 6th Lunch Not Available
Monday 6th Dinner 5.30pm – 8.30pm
Tuesday 7th Lunch Not Available
Tuesday 7th Dinner 5.30pm – 8.30pm
Wednesday 8th Lunch Not Available
Wednesday 8th Dinner 5.30pm – 8.30pm
Thursday 9th Lunch Not Available
Thursday 9th Dinner 5.30pm – 8.30pm
Friday 10th Lunch Not Available
Friday 10th Dinner 5.30pm – 8.30pm
---
BOOK NOW
01945 592595
(Please Quote Norfolk Restaurant Week)
Find us
---
2 School Road
Terrington St John
Wisbech
PE14 7SE
Good to know
---
 Accessible dining