CROMER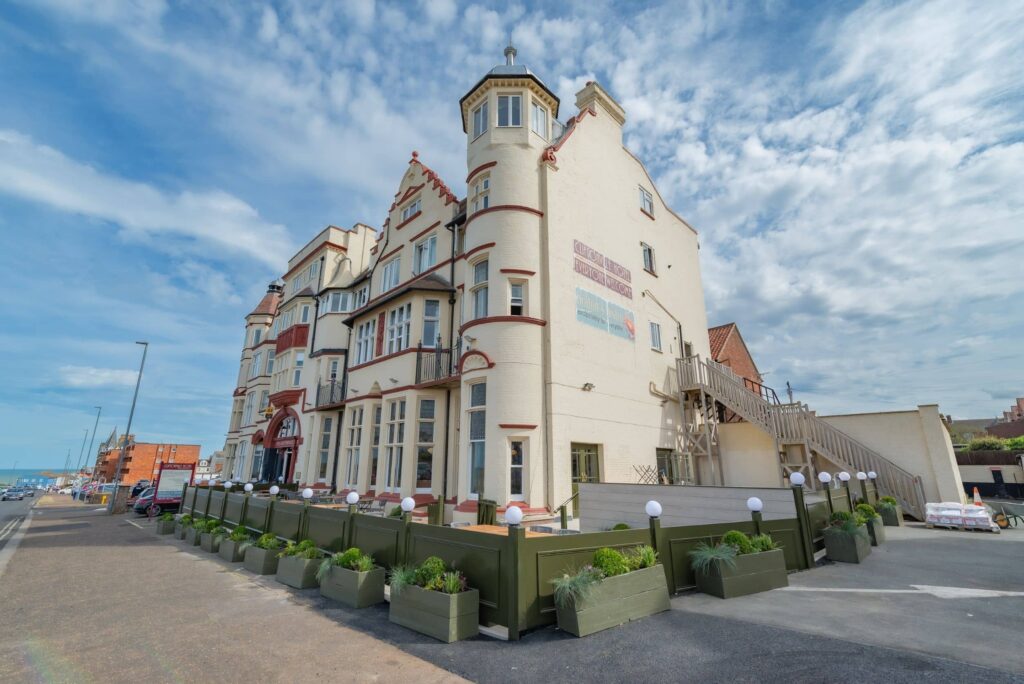 Open Daily serving Lunch and Dinner, Bolton's Bistro at The Cliftonville Hotel was the first bistro in Cromer specialising in fresh fish dishes including the world renowned cromer crab and locally caught lobster and local mussels. The menu also offers seasonal salads, steaks and a variety of meat dishes with a extensive choice of imaginative vegetarian options.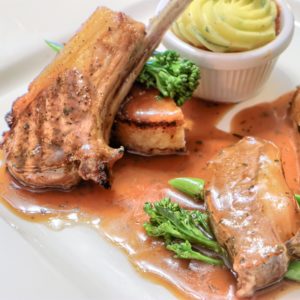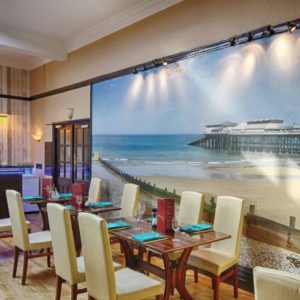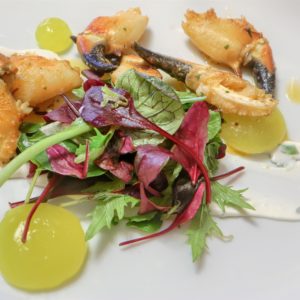 STARTERS
SHIN OF BEEF RAGU, TOASTED BRIOCHE, fried egg & Parmesan
CROMER CRAB BENEDICT, toasted crumpet, seaweed hollandaise
CARPACCIO OF ROASTED BEETROOT, VEGAN FETA, SPINACH, fennel pesto, pickled shallots & candied walnuts (pb) (gif)
MAINS
ROAST BREAST OF GUINEA FOWL, POTATO ROSTI, PUMPKIN PURÉE, crispy cavolo nero, chanterelle mushrooms, white wine jus, bread sauce
GRILLED PLAICE, NEW POTATOES, samphire & brown shrimp butter (gif)
CHICKPEA, SQUASH & PEPPER LAKSA with noodles (pb)
PUDDINGS
CHOCOLATE BROWNIE, VANILLA ICE CREAM & raspberry coulis (v) (gif)
TART TATIN, SALTED CARAMEL SAUCE, vanilla mascarpone (v)
ROASTED PLUMS WITH CINNAMON & ORANGE, ALMOND SABAYON, vanilla ice cream & amaretti crumbs
*****
(V) VEGETARIAN (PB) PLANT BASED (GIF) GLUTEN INGREDIENT FREE
*****
*Please note, because of the seasonal nature of some dishes, menus may change without notice.
Restaurant Week menu will be available at the THE CLIFTONVILLE on the following days and times.
Monday 30th Lunch 12pm – 5pm
Monday 30th Dinner 5pm – 8.45pm
Tuesday 31st Lunch 12pm – 5pm
Tuesday 31st Dinner 5pm – 8.45pm
Wednesday 1st Lunch 12pm – 5pm
Wednesday 1st Dinner 5pm – 8.45pm
Thursday 2nd Lunch 12pm – 5pm
Thursday 2nd Dinner 5pm – 8.45pm
Friday 3rd Lunch 12pm – 5pm
Friday 3rd Dinner 5pm – 8.45pm
Saturday 4th Lunch Not Available
Saturday 4th Dinner Not Available
Sunday 5th Lunch Not Available
Sunday 5th Dinner Not Available
Monday 6th Lunch 12pm – 5pm
Monday 6th Dinner 5pm – 8.45pm
Tuesday 7th Lunch 12pm – 5pm
Tuesday 7th Dinner 5pm – 8.45pm
Wednesday 8th Lunch 12pm – 5pm
Wednesday 8th Dinner 5pm – 8.45pm
Thursday 9th Lunch 12pm – 5pm
Thursday 9th Dinner 5pm – 8.45pm
Friday 10th Lunch 12pm – 5pm
Friday 10th Dinner 5pm – 8.45pm
---
BOOK NOW
01263 512543
(Please Quote Norfolk Restaurant Week)
Find us
---
29 Runton Road
Cromer
NR27 9AS
Good to know
---
Dog friendly dining
Accessible dining