KING'S LYNN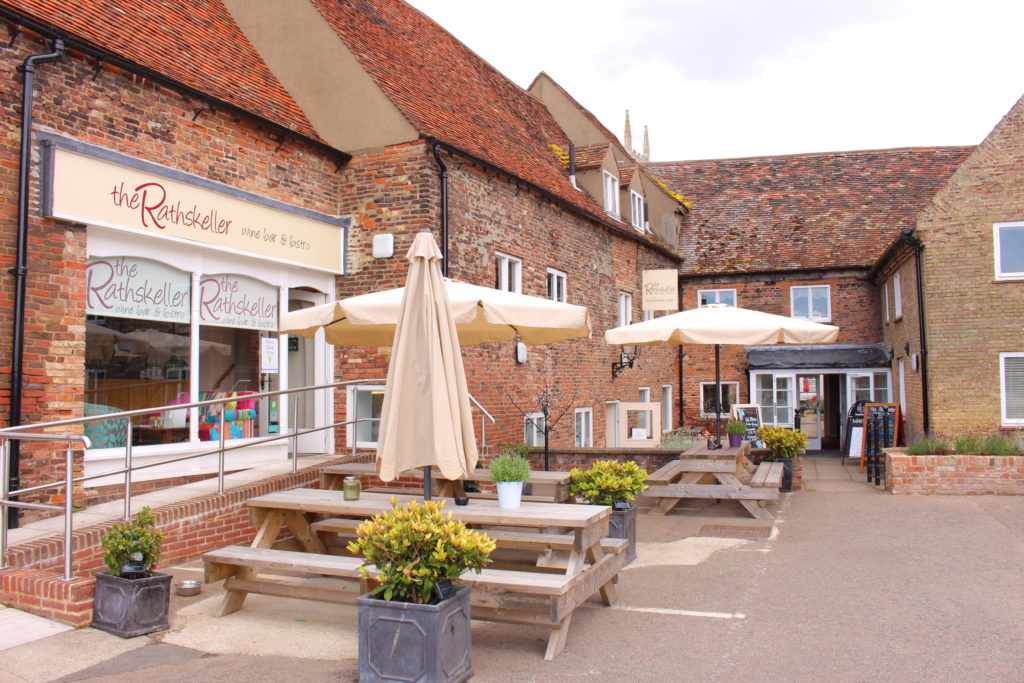 The Bistro offers a freshly cooked menu of the finest homemade dishes using prime Norfolk produce. Seasonal ingredients are sourced from local suppliers where possible, so the menu changes on a regular basis. The Bistro offers a relaxed dining experience for everyone whatever the occasion. It is recognised not only for its fine food, but also for its friendly atmosphere and good service, nothing is too much trouble.
Starters
Brie bites with cranberry sauce (g,m,)
Tempura Prawns with sweet chilli dip (cr, so, g)
Southern fried chicken strips and BBQ sauce (g)
Soup of the day served with a half baguette (g, vg)
Mains
The Rathskeller 6oz cheeseburger with tomato relish, served with fries and salad garnish (m, g)
Battered fish and chips with garden peas (f, g)
Thai red chicken curry with rice and naan bread (df,g)
Moroccan tagine and couscous (vg, gf, df)
Cajun chicken burger topped with cheese and bbq sauce, served with fries and salad garnish (g,m,)
Desserts
Warm chocolate brownie and vanilla ice cream (vg, df)
Vegan sticky toffee pudding with butterscotch sauce and vanilla ice cream (vg, df)
Black cherry Eton mess (m)
*****
(c) celery (g) cereals that contain gluten – including wheat (such as spelt and Khorasan), rye, barley and oats (cr) crustaceans – such as prawns, crabs and lobsters (e) eggs (f) fish (l) lupin (m) milk (mo) molluscs – such as mussels and oysters (mu) mustard (tn) tree nuts – including almonds, hazelnuts, walnuts, brazil nuts, cashews, pecans, pistachios and macadamia nuts (p) peanuts (se) sesame seeds (so) soybeans (su) sulphur dioxide and sulphites (if they are at a concentration of more than ten parts per million) (gf) Gluten Free (df) Dairy Free (vg) Vegan
Restaurant Week menu will be available at THE RATHSKELLER on the following days and times.
Monday 30th Lunch Not Available
Monday 30th Dinner Not Available
Tuesday 31st Lunch Not Available
Tuesday 31st Dinner Not Available
Wednesday 1st Lunch Not Available
Wednesday 1st Dinner 5pm – 9pm
Thursday 2nd Lunch Not Available
Thursday 2nd Dinner 5pm – 9pm
Friday 3rd Lunch Not Available
Friday 3rd Dinner 5pm – 9pm
Saturday 4th Lunch Not Available
Saturday 4th Dinner 5pm – 9pm
Sunday 5th Lunch Not Available
Sunday 5th Dinner Not Available
Monday 6th Lunch Not Available
Monday 6th Dinner Not Available
Tuesday 7th Lunch Not Available
Tuesday 7th Dinner Not Available
Wednesday 8th Not Available
Wednesday 8th Dinner 5pm – 9pm
Thursday 9th Lunch Not Available
Thursday 9th Dinner 5pm – 9pm
Friday 10th Lunch Not Available
Friday 10th Dinner 5pm – 9pm
---
BOOK NOW
01553 773713
(Please Quote Norfolk Restaurant Week)
Find us
---
Hanse House
1 South Quay
King's Lynn
PE30 5GN
Good to know
---
 Dog friendly dining
 Accessible dining