WIVETON
Wiveton Hall Café, which overlooks the marshes and out to sea, opened in 2007 and quickly gained a reputation for fine, wholesome food. Situated on the fruit farm, surrounded by strawberry fields and raspberry canes, the food is always seasonal which is reflected in the regularly changing menu.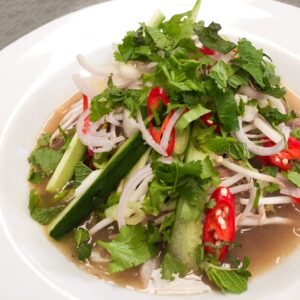 Crab Bisque (m) (cr) (c)
Orange Cured Salmon with Avocado (f)
Game Paté with Fig Chutney and Toast (m) (e)
Roasted Beetroot, Spiced Plums and Candied Walnuts (tn)
*****
Rabbit and Mushroom Pappardelle (g) (mu) (m)
Grilled Mackerel with Prawn Singapore Noodles (f) (cr)
Squash and Herb Risotto Topped with Goats Cheese (m)
Slow Braised Blade of Beef with Horseradish Mash and Fresh Vegetables (m)
*****
Crème Brulée (m) (e)
Chocolate Tart with Pistachio Ice Cream (m) (tn) (g)
Orange and Polenta Cake with Mascarpone (m) (e)
Baked Vanilla Cheesecake with Blueberries (m) (e)
*****
(c) celery (g) cereals that contain gluten – including wheat (such as spelt and Khorasan), rye, barley and oats (cr) crustaceans – such as prawns, crabs and lobsters (e) eggs (f) fish (l) lupin (m) milk (mo) molluscs – such as mussels and oysters (mu) mustard (tn) tree nuts – including almonds, hazelnuts, walnuts, brazil nuts, cashews, pecans, pistachios and macadamia nuts (p) peanuts (se) sesame seeds (so) soybeans (su) sulphur dioxide and sulphites (if they are at a concentration of more than ten parts per million) (gf) Gluten Free (df) Dairy Free (vg) Vegan
*****
*Please note, because of the seasonal nature of some dishes, menus may change without notice.
Restaurant Week menu will be available at WIVETON HALL CAFE on the following days and times.
| | |
| --- | --- |
| | Service |
| Monday 28th October | Lunch 12pm – 3pm |
| | Dinner Not Available |
| Tuesday 29th October | Lunch 12pm – 3pm |
| | Dinner Not Available |
| Wednesday 30th October | Lunch 12pm – 3pm |
| | Dinner Not Available |
| Thursday 31st October | Lunch 12pm – 3pm |
| | Dinner Not Available |
| Friday 1st November | Lunch 12pm – 3pm |
| | Dinner Not Available |
| Saturday 2nd November | Lunch Not Available |
| | Dinner Not Available |
| Sunday 3rd November | Lunch Not Available |
| | Dinner Not Available |
| Monday 4th November | Lunch 12pm – 3pm |
| | Dinner Not Available |
| Tuesday 5th November | Lunch 12pm – 3pm |
| | Dinner Not Available |
| Wednesday 6th November | Lunch 12pm – 3pm |
| | Dinner Not Available |
| Thursday 7th November | Lunch 12pm – 3pm |
| | Dinner Not Available |
| Friday 8th November | Lunch 12pm – 3pm |
| | Dinner Not Available |
---
BOOK NOW
01263 740515
(Please Quote Norfolk Restaurant Week)
Find us
---
Wiveton Hall Farm
Wiveton
Holt
NR25 7TE
Get in contact
---
Good to know
---
 Dog friendly dining
 Accessible dining