HOVETON
This table-service Restaurant is open 7 days a week offering daytime dining with a wide range of delicious restaurant-quality dishes. They serve excellent food using the finest ingredients sourced from trusted suppliers with seasonal and local produce wherever possible and all homemade in their own kitchen.
To accompany your meal they offer a range of soft drinks, beers, lagers, ciders and wines.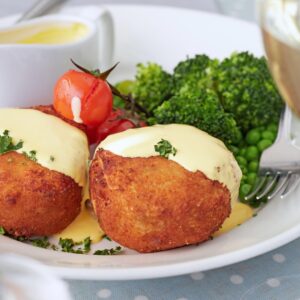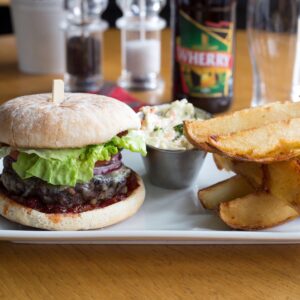 Twice Baked Binham Blue Cheese Soufflé served with Baby Leaf and Chutney (g) (e) (m) (mu) (su)
Spiced Parsnip and Apple Soup with Sage Infused Sourdough Croutons (vg) (df) (c) (g)
Smoked Salmon and Prawn Tian served with Pickled Cucumber and Pea Shoots (gf) (cr) (f)
Chicken Liver Pâté served with Red Onion Marmalade and Melba Toast (g) (m) (mu) (su)
*****
Seared Fillet of Pork with Bubble and Squeak, Roasted Baby Apples, Braised Red Cabbage and Onion Gravy (gf) (df) (mu) (su)
Seabass Fillet on Potato Rosti served with Wilted Spinach and Spring Onions and a Dugléré Sauce (gf) (f) (m) (su)
Braised Beef in Red Wine served with Creamy Mashed Potato and Seasonal Vegetables (gf) (c) (m) (mu) (su)
Wild Mushroom and Feta Filo Parcel served with Roasted New Potatoes and a Mixed Leaf Salad (vg) (g) (mu) (su) (se)
*****
Raspberry Crème Brûlée with Lemon Shortbread (g) (e) (m)
Autumn Oat and Almond Spiced Plum Crumble served with Vanilla Custard (g) (e) (m)
Trio of Blackberry (gf) (e) (m)
Chocolate Brownie served with Ronaldo's Soya Vanilla Ice Cream (df) (vg) (g)
*****
(c) celery (g) cereals that contain gluten – including wheat (such as spelt and Khorasan), rye, barley and oats (cr) crustaceans – such as prawns, crabs and lobsters (e) eggs (f) fish (l) lupin (m) milk (mo) molluscs – such as mussels and oysters (mu) mustard (tn) tree nuts – including almonds, hazelnuts, walnuts, brazil nuts, cashews, pecans, pistachios and macadamia nuts (p) peanuts (se) sesame seeds (so) soybeans (su) sulphur dioxide and sulphites (if they are at a concentration of more than ten parts per million) (gf) Gluten Free (df) Dairy Free (vg) Vegan
*****
*Please note, because of the seasonal nature of some dishes, menus may change without notice.
Restaurant Week menu will be available at WROXHAM BARNS RESTAURANT on the following days and times.
| | |
| --- | --- |
| | Service |
| Monday 28th October | Lunch 11.30 – 3.30pm |
| | Dinner Not Available |
| Tuesday 29th October | Lunch 11.30 – 3.30pm |
| | Dinner Not Available |
| Wednesday 30th October | Lunch 11.30 – 3.30pm |
| | Dinner Not Available |
| Thursday 31st October | Lunch 11.30 – 3.30pm |
| | Dinner Not Available |
| Friday 1st November | Lunch 11.30 – 3.30pm |
| | Dinner Not Available |
| Saturday 2nd November | Lunch Not Available |
| | Dinner Not Available |
| Sunday 3rd November | Lunch Not Available |
| | Dinner Not Available |
| Monday 4th November | Lunch 11.30 – 3.30pm |
| | Dinner Not Available |
| Tuesday 5th November | Lunch 11.30 – 3.30pm |
| | Dinner Not Available |
| Wednesday 6th November | Lunch 11.30 – 3.30pm |
| | Dinner Not Available |
| Thursday 7th November | Lunch 11.30 – 3.30pm |
| | Dinner Not Available |
| Friday 8th November | Lunch 11.30 – 3.30pm |
| | Dinner Not Available |
---
BOOK NOW
01603 783762
(Please Quote Norfolk Restaurant Week)
Find us
---
Tunstead Road
Hoveton
NR12 8QU
Good to know
---
 Accessible dining