NORWICH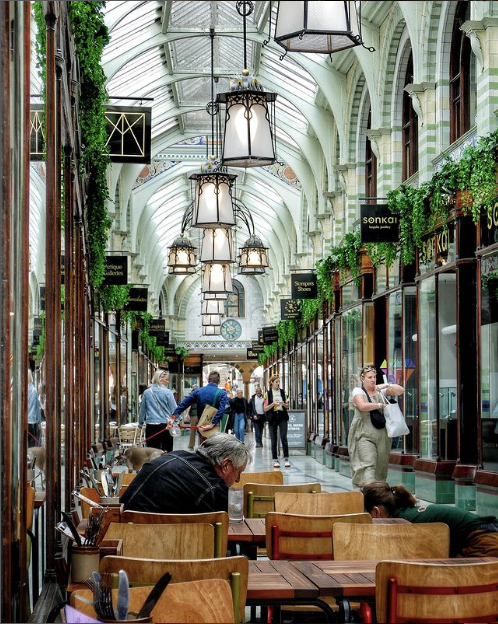 Yalm has over 300 covers spread over two floors and with menus from seven independent kitchens and three bars there is something for every occasion. The kitchens serve all day, six days a week and as a result, there is no need to book Yalm, simply walk in and find yourself a table.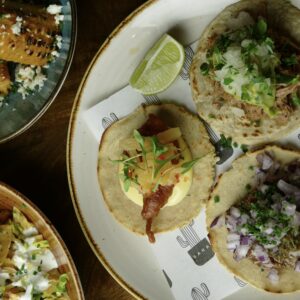 EACH DINER SHOULD CHOSE FROM A SINGLE KITCHEN
BAHA KITCHEN
Your choice of 3 tacos
Carne Asada (flank steak) OR Baja Fish (cod) OR Carnitas (pork shoulder) OR Luchito (cauliflower)
PLUS Mexican Slaw
Carrot, coriander, cabbage, roasted cashew, cilantro & lime
TOAST & MILK
Vegan Works Bowl
Herb baked mushrooms, tempura king oyster mushrooms, smashed hashed browns, crispy kale, chives & herb vegan mayo
PLUS Nickers Soft Serve
Chocolate & vanilla soft serve, peanut butter, chocolate sauce, salted peanut brittle & caramel sauce
ON THE BONE
Steak Frites Sandwich
Bavette steak, lucky 7 fries, garlic butter, pickled onion mayonnaise all stuffed into a locally made ciabatta bun
PLUS Charred Leeks
with romesco sauce & toasted almonds
OR Grilled Courgettes
NXXDS
Hot Fried Chicken Ramen
Japanese fried chicken, appley gherkins, chilli oil
PLUS Cucumber Sunomono
Fresh & light cucumber salad with rice vinegar dressing, wakame seaweed, sesame seeds & garlic crisps
ERICS PIZZA & PASTA
Italian Burrata & Pesto
PLUS Margherita
Tomato, fiordilatte, basil, extra virgin olive oil
OR Pepperoni Spiced Honey, Lime
Pepperoni, san Marzano tomato, fior di latte, spiced honey & lime
SOUK
Homemade Lebenah
with corriander oil, cherry tomato & flatbread
PLUS Chicken Shawarma
with Eastern slaw, harissa & honey dressing plus 2 sides & flatbread
OR Spiced Falafels
with olives, tabouleh & harissa sauce VE plus 2 sides & flatbread
with sage butter & crispy onions
VE – Vegan
PLEASE ORDER AT THE BAR
Restaurant Week menu will be available at YALM on the following days and times.
Monday 30th 12pm – 10pm
Tuesday 31st 12pm – 10pm
Wednesday 1st 12pm – 10pm
Thursday 2nd 12pm – 10pm
Friday 3rd 12pm – 10pm
Saturday 4th Not Available
Sunday 5th Not Available
Monday 6th 12pm – 10pm
Tuesday 7th 12pm – 10pm
Wednesday 8th 12pm – 10pm
Thursday 9th 12pm – 10pm
Friday 10th 12pm – 10pm
Please Note
FULL TABLE SERVICE IS NOT AVAILABLE FOR NORFOLK RESTAURANT WEEK DINERS
ORDERS NEED TO BE PLACED AT THE SKIPPERS BAR
EACH DINER SHOULD CHOSE FROM A SINGLE KITCHEN
---
NO NEED TO BOOK
YALM WELCOMES WALK INS
BOOKINGS CAN BE MADE FOR PARTIES OF 8 OR MORE
(Please Quote Norfolk Restaurant Week)
FULL TABLE SERVICE IS NOT AVAILABLE FOR NORFOLK RESTAURANT WEEK DINERS
ORDERS NEED TO BE PLACED AT THE SKIPPERS BAR
EACH DINER SHOULD CHOSE FROM A SINGLE KITCHEN
Find us
---
23–24 Royal Arcade
Castle Street
Norwich
NR2 1NQ
Good to know
---
 Dog friendly dining
 Accessible dining