CROMER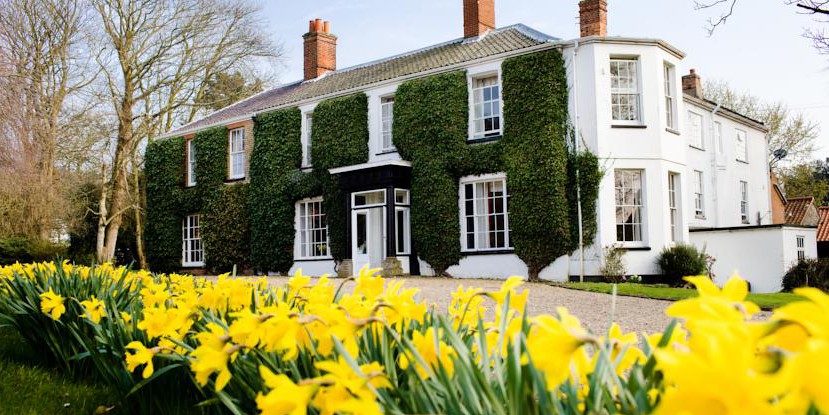 Situated in Cromer on the beautiful coastline of North norfolk with it's own path to the towns wonderful beach, this award winning 2 AA Rosette restaurant serves breakfast, Sunday lunch and dinner and their two rosettes are a tribute to their commitment to serving seasonal local food.
Featuring a seasonally inspired and locally sourced menu that regularly changes, much of the produce brought to the plate can be found growing only hours before in The Grove's very own fruit and vegetable gardens, orchard or poly-tunnel. Showcasing regional flavours, as well as a firm conviction in the 'eat, drink, be merry' approach to life, The Grove is a firmly sought after dining experience.
With two restaurants; the oak-panelled study and the original Georgian dining room, both of which have their unique character and features, dining at The Grove will encapsulate the variety of produce North Norfolk has to offer in stunning surroundings.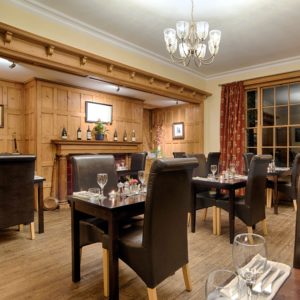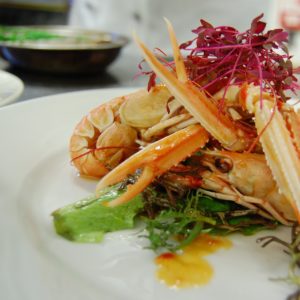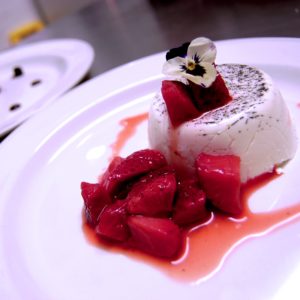 Home cured salmon
Pickled cucumber, salmon eggs, mustard seed, sorrel mayonnaise.
Norfolk quail
Half a cured and smoked quail, charred sprout, corn puree, toasted cashew nuts.
Venison Scotch egg
Celeriac puree, truffle aioli, chilled pea soup, roasted cauliflower.
English mussels
White wine sauce, artisan bread (also available as a main course)
Market soup
Fresh-cut bloomer.
Baked Copy's Cloud (to share)
Red onion marmalade, artisan bread.
Binham blue and red onion puff pastry tartlet.
Garden salad
Roast cauliflower
Mint and raisin cous-cous, ras el hannout cauliflower puree.
Leek and apple strudel
Rocket and pine nut salad.
*****
North Sea hake
Garden garlic roasted Jersey royals, roast baby leek, celeriac and anise cream.
Breast of Gressingham duck
Fondant potato, braised celeriac, carrot puree, roast garden carrot, Wherry gravy.
Loin of Gunton venison
Chocolate jus, salsify, mash potato, roasted parsnip, blackberry.
Roast hevingham chicken
Sage and onion pudding, lemon &thyme bubble and squeak, charred leek, pumpkin puree, cream reduction.
Smoked jackfruit and mixed bean cassoulet
Sweet potato wedges, fennel slaw, garlic ciabatta.
Salt baked beetroot
Puy lentil fricassee, roast new potato, charred garden leeks.
Risotto of the day
Norfolk cheese fondue, broad bean.
Harissa cous-cous stuffed pepper
Tomato and olive pomodoro.
*****
Vanilla & Tonka bean cheesecake
Gooseberry jam, blueberry frozen yogurt.
Beetroot parfait
Chocolate soil, raspberry coulis, brandy snap.
Cranberry & white chocolate bread & butter pudding
Crème anglaise, burnt white chocolate crumb.
Autumn Eton mess
Earl grey poached pears, glazed figs, carbonated lemon curd, elderberry jelly.
Chocolate and orange delice
Double chocolate brownie, toasted marshmallow, chocolate shard.
Selection of handmade ice-creams and sorbet.
*****
(c) celery (g) cereals that contain gluten – including wheat (such as spelt and Khorasan), rye, barley and oats (cr) crustaceans – such as prawns, crabs and lobsters (e) eggs (f) fish (l) lupin (m) milk (mo) molluscs – such as mussels and oysters (mu) mustard (tn) tree nuts – including almonds, hazelnuts, walnuts, brazil nuts, cashews, pecans, pistachios and macadamia nuts (p) peanuts (se) sesame seeds (so) soybeans (su) sulphur dioxide and sulphites (if they are at a concentration of more than ten parts per million) (gf) Gluten Free (df) Dairy Free (vg) Vegan
*****
*Please note, because of the seasonal nature of some dishes, menus may change without notice.
Restaurant Week menu will be available at THE GROVE on the following days and times.
| | |
| --- | --- |
| | Service |
| Monday 28th October | Lunch Not Available |
| | Dinner 6pm – 9.30pm |
| Tuesday 29th October | Lunch Not Available |
| | Dinner 6pm – 9.30pm |
| Wednesday 30th October | Lunch Not Available |
| | Dinner 6pm – 9.30pm |
| Thursday 31st October | Lunch Not Available |
| | Dinner 6pm – 9.30pm |
| Friday 1st November | Lunch Not Available |
| | Dinner 6pm – 9.30pm |
| Saturday 2nd November | Lunch Not Available |
| | Dinner Not Available |
| Sunday 3rd November | Lunch Not Available |
| | Dinner Not Available |
| Monday 4th November | Lunch Not Available |
| | Dinner 6pm – 9.30pm |
| Tuesday 5th November | Lunch Not Available |
| | Dinner 6pm – 9.30pm |
| Wednesday 6th November | Lunch Not Available |
| | Dinner 6pm – 9.30pm |
| Thursday 7th November | Lunch Not Available |
| | Dinner 6pm – 9.30pm |
| Friday 8th November | Lunch Not Available |
| | Dinner 6pm – 9.30pm |
---
BOOK NOW
01263 512 412
(Please Quote Norfolk Restaurant Week)
Find us
---
95 Overstrand Road
Cromer
NR27 0DJ
Good to know
---
Accessible dining