BRANCASTER STAITHE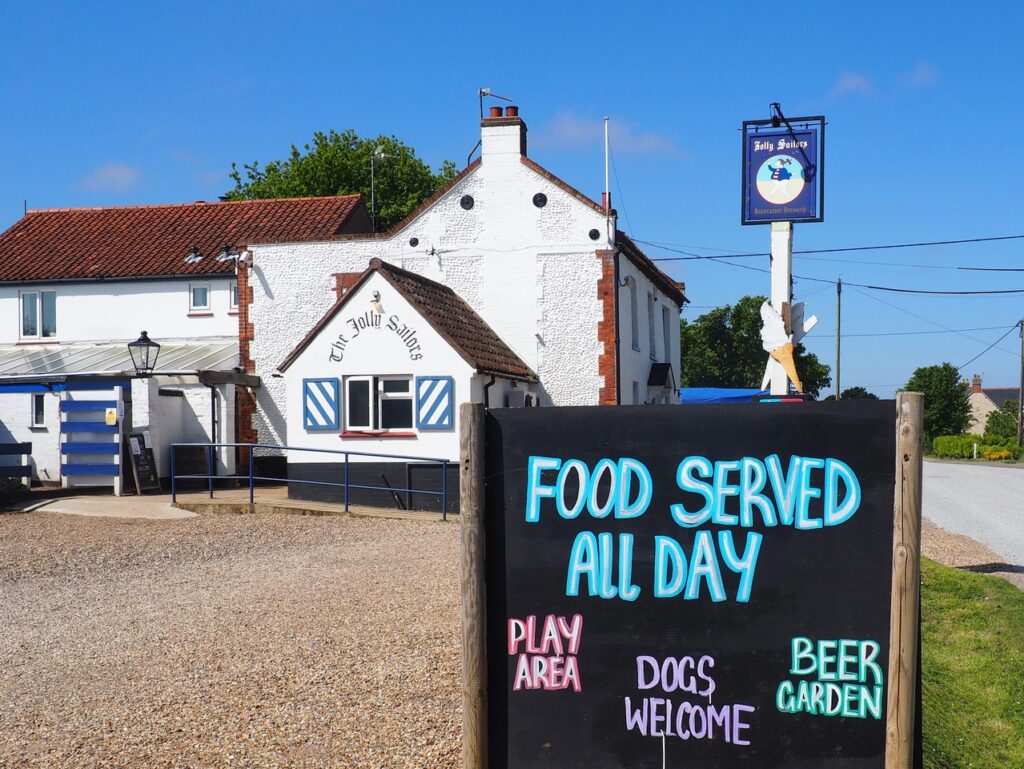 The Jolly Sailors serves wholesome, home cooked food from local sourced seasonal produce including
specials from their own 'Jolly Smokehouse', and stone baked authentic pizzas with a Norfolk twist. The welcoming traditional 18th century pub is open all day from 12noon to 9pm.
This traditional 18th Century pub is recognised as a Local Gem in The Good Food Guide 2023, and is a 2023 The Publican Award winner.
The Jolly Sailors is part of the family run Anglian Country Inns group (ACInns) who also run The White Horse in Brancaster Staithe and The Kings Head in Letheringsett, also partaking in Norfolk Restaurant Week.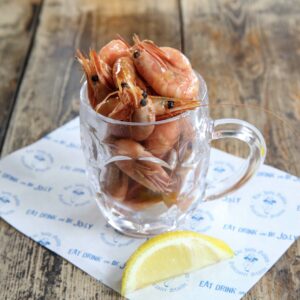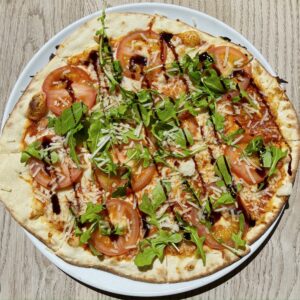 LIGHT BITES/STARTERS
Roasted Red Pepper Hummus pitta bread
Mozzarella & Tomato Salad basil dressing
Crispy Chicken Tenders sweet chili dip
Salt & Pepper Squid garlic mayonnaise
Prawn Cocktail crusty bread
JOLLY PIZZAS
Three Cheese Margherita Parmesan Mozzarella, Cheddar
The Jolly Vegan Margherita
The Jolly Goat goat cheese, Mozzarella, onion marmalade, olives, rocket
The Meaty Farmer ham pepperoni, chorizo, peppers, Mozzarella (go spicy add fresh chilli)
The Jolly Cajun Chicken Cajun chicken, Mozzarella, red onion, pepper, Cajun mayonnaise
Make your own pizzas, add 3 toppings to a Margherita
-Fresh chilli, jalapenos, red onion, garlic, bbq sauce, sweetcorn, peppers, mushroom, olives, spinach, egg, rocket, pepperoni, ham, chorizo, red onion marmalade, prawns, chicken, goat cheese, anchovies, pulled pork
JOLLY CLASSICS
Cauliflower & Chickpea Curry steamed Basmati rice, poppadom, mango chutney
The Beetroot Salad balsamic onions, goat cheese, crispy onions, rocket, honey & balsamic dressing (ADD bacon)
Whole Tail Scampi & Chips garden peas, tartare sauce
10oz Gammon Steak hen egg, fries, garden peas
Jolly Chicken Curry steamed Basmati rice, poppadom, mango chutney
Fish & Chips beer battered fish, garden or mushy peas, tartare sauce
BURGERS – served with lettuce, tomato, fries and coleslaw
Home made bhaji burger
1/2lb Beef & bone marrow burger
DESSERTS
Chocolate Brownie vanilla ice cream
Sticky Toffee Pudding Vanilla ice cream
Jolly Mixed Berry 'Mess' mixed berries, meringue, whipped cream
Ice Cream & Sorbets
*****
*Please note, because of the seasonal nature of some dishes, menus may change without notice.
Restaurant Week menu will be available all day at  THE JOLLY SAILORS.
Monday 30th 12pm – 9pm
Tuesday 31st 12pm – 9pm
Wednesday 1st 12pm – 9pm
Thursday 2nd 12pm – 9pm
Friday 3rd 12pm – 9pm
Saturday 4th  Not Available
Sunday 5th Not Available
Monday 6th 12pm – 9pm
Tuesday 7th 12pm – 9pm
Wednesday 8th 12pm – 9pm
Thursday 9th 12pm – 9pm
Friday 10th 12pm – 9pm
---
BOOK NOW
Walk-ins are always welcome!
01485 210314
(Please Quote Norfolk Restaurant Week)
Find us
---
Main Road

Brancaster Staithe
PE31 8BJ
Get in contact
---
Good to know
---
Dog friendly dining
Accessible dining