ROYDON, KING'S LYNN
A small country pub in the heart of the village of Roydon, just a few miles from Kings Lynn and The Sandringham Estate. Serving real ales and traditional home-made pub food!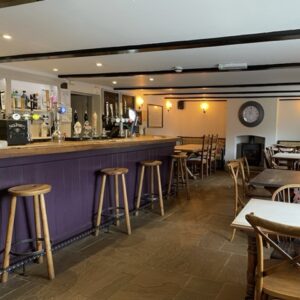 Starters
Leek, potato and cheddar cheese soup with chive cream and warm bread roll [ c,g,m, ]
Duo of Filo wrapped tiger prawns, battered squid rings with sweet chilli sauce dressed leaves. [g,cr,mu.mo]
Ham hock and pea terrine with apple chutney and granary toast [g,su,mu,m]
Blue cheese and tomato salad with pickled fig and toasted walnuts [g,mu,su,m,tn]  can be vegan
Mains
Maple BBQ glazed chicken burger topped with cheese and bacon with chips and salad. [g,mu,m,su,g,c]
Pan fried seabass with sautéed potato, wilted baby gem, green beans and a mussel and prawn cream sauce [mo,m,cr,f]
Wild mushroom, tarragon and truffle oil linguini with a rocket & parmesan salad & granary bread [g,m,c,mu] can be vegan
Slow cooked belly of pork, mash potatoes, broccoli, carrots and a green peppercorn sauce [m,su.gf]
Desserts
English cheese and biscuits frozen grapes celery and chutney [g,m,c,su]
Apple and cinnamon jam roly-poly with custard [g,e,m]
Salted Carmel cup with chocolate ice cream and fudge pieces [m,e]
Biscoff cheesecake with honeycomb ice cream [g,m,e]
*****
(c) celery (g) cereals that contain gluten – including wheat (such as spelt and Khorasan), rye, barley and oats (cr) crustaceans – such as prawns, crabs and lobsters (e) eggs (f) fish (l) lupin (m) milk (mo) molluscs – such as mussels and oysters (mu) mustard (tn) tree nuts – including almonds, hazelnuts, walnuts, brazil nuts, cashews, pecans, pistachios and macadamia nuts (p) peanuts (se) sesame seeds (so) soybeans (su) sulphur dioxide and sulphites (if they are at a concentration of more than ten parts per million) (gf) Gluten Free (df) Dairy Free (vg) Vegan
*****
*Please note, because of the seasonal nature of some dishes, menus may change without notice.
Menus will be released late September
To be the first to hear, sign up to our mailing list for news and announcements
Restaurant Week menu will be available at THE THREE HORSESHOES PUB on the following days and times.
Monday 30th Lunch 12pm – 5pm
Monday 30th Dinner 5pm – 9pm
Tuesday 31st Lunch 12pm – 5pm
Tuesday 31st Dinner 5pm – 9pm
Wednesday 1st Lunch 12pm – 5pm
Wednesday 1st Dinner 5pm – 9pm
Thursday 2nd Lunch 12pm – 5pm
Thursday 2nd Dinner 5pm – 9pm
Friday 3rd Lunch 12pm – 5pm
Friday 3rd Dinner 5pm – 9pm
Saturday 4th Lunch 12pm – 5pm
Saturday 4th Dinner 5pm – 9pm
Sunday 5th Lunch Not Available
Sunday 5th Dinner Not Available
Monday 6th Lunch 12pm – 5pm
Monday 6th Dinner 5pm – 9pm
Tuesday 6th Lunch 12pm – 5pm
Tuesday 6th Dinner 5pm – 9pm
Wednesday 8th Lunch 12pm – 5pm
Wednesday 8th Dinner 5pm – 9pm
Thursday 9th Lunch 12pm – 5pm
Thursday 9th Dinner 5pm – 9pm
Friday 10th Lunch 12pm – 5pm
Friday 10th Dinner 5pm – 9pm
---
BOOK NOW
01485 600666
(Please Quote Norfolk Restaurant Week)
Find us
---
148 Lynn Road
Roydon
King's Lynn
PE32 1AQ
Get in contact
---
Good to know
---
Dog friendly dining